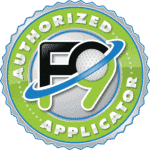 Hydro Solutions Power & Soft Washing uses exclusive Front 9 Restoration products for rust removal, but for many other hard surface restoration projects as well. We have been a Louisville Area Rust Stain Removal Professional Applicator of the Front 9 restoration system since the beginning.
We all know that rust is a stubborn unsightly stain that is almost impossible to remove. At Hydro Solutions Power and Soft Washing, we have the right solution to remove those stubborn stains without damaging your building's surface. Our team of experts can remove rust from any surface with a soft washing product that is top of the line. Keeping your property clean can feel impossible, so contact us to learn how we can help.
Rust removal and rust stain treatment is a chemical process that requires specially formulated products, knowledge, and equipment.
For instance, metal furniture can corrode over time and cause staining. Fortunately, our team of technicians is experienced in the removal of unsightly rust stains. We know exactly which level of pressure and flow rate to use for specific situations. To ensure flawless results, we use commercial-grade rust removal equipment and techniques.
Hydro Solutions Power And Soft Washing LLC is the Louisville area's preeminent pressure washing and soft washing company. Our team has more than 10 years' experience and expertise in every aspect of exterior cleaning, for both residential and commercial buildings.
Our experience and talent comes with the Hydro Helpers Guarantee: When we give you a quote, you are getting a guaranteed price without exception. We don't add additional costs, nor do we add any hidden fees. Our technicians are certified in pressure washing and soft washing processes and can answer any questions your might have about our exterior cleaning services.
Part of our guarantee is providing top-notch customer service – we will go the extra mile to meet or exceed your expectations. Because we understand your home or business is your most valuable asset, we take care not to damage surfaces while ensuring a high-quality clean that protects and preserves the beauty and health of your home.
We provide service to the Louisville and Indiana Metro area's, including:
Anchorage, KY
Barbourmeade, KY
Beechwood Village, KY
Bellemeade, KY
Buckner, KY
Charlestown, IN
Clarksville, IN
Corydon, IN
Crestwood, KY
Finchville, KY
Fisherville, KY
Glenview, KY
Goose Creek, KY
Goshen, KY
Heritage Creek, KY
Hickory Hills, Ky
Houston Acres, KY
Hurstbourne Acres, KY
Hurstbourne, KY
Indian Hills, KY
Jeffersontown, KY
Jeffersonville, IN
LaGrange, KY
Louisville, KY
Middletown, KY
Mount Washington, KY
Prospect, KY
Shelbyville, KY
Shepherdsville, Ky
Simpsonville, KY
Receive your free quote today!